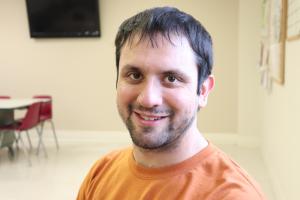 Some say that timing is everything.  And in Nate Nuss's case, this is true.   Nate had worked for Perkins restaurant in Grove City, Pennsylvania for 15 years. The restaurant closed and he was suddenly unemployed.  Around the same time, Pine Electronics was looking to hire a custodian.  Nate applied and landed the job. 
A few months have passed and Nate has acclimated nicely to his role.  Little did he know how critically important his job would become in maintaining a healthy and safe work environment for the entire Pine company.  It turns out that Pine Electronics is considered a "life-sustaining" business and would remain open during the COVID-19 government shutdown.  As such, drastic changes were made to the operations to keep everyone safe and healthy while at work.  During these challenging times, Nate and the rest of the facilities department have been put to task.   They are demonstrating extraordinary efforts to sanitize and disinfect all surfaces with intense industrial hygiene practices.  Most importantly, they are doing all they can to keep our employees safe at work.
We are very pleased to welcome Nate to our family-oriented company.  On behalf of all Pine employees, thank you!  We appreciate you and the great job that you do.