Pine Instrument Company celebrates the numerous contributions of Principal Engineer, Edward Berti, at a retirement party attended by Pine employees.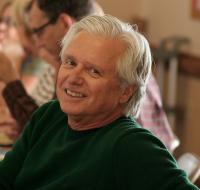 A staple in the company, Berti joined Pine in 1973 shortly after earning his bachelor degree in Electrical Engineering from Grove City College. "Times were different back then; we all wore many different hats and shared responsibilities as the company was small, still fairly young but growing", states Berti. "Heck, I helped construct the building we are standing in".
Ed was instrumental in the development of many of Pine's products. The MSR Rotator, CBP Potentiostat, and the WV10 Rotator are key electrochemistry research instrumentation products that Ed designed that were used in research labs world-wide. His leadership, knowledge and talent resulted in the development of Eveready battery testers, Process Technology Temperature Controllers, and Joy Mining Equipment Designs – to name a few. Besides R&D, Berti was deeply involved with launching Pine's ISO 9000 Quality Program, RoHS Program, CE Certifications, and the Electrostatic Discharge (ESD) program.
A couple of Ed's peers gave tribute to him. Pine Research Instrumentation General Manager, Frank Dalton, attributes Ed Berti for recruiting him to Pine. Dalton was a professor at Grove City College that provided consulting services to the company. Bruce Denniston, retired Pine Vice President, noted how prevalent Berti's name was with Pine in the community. "Everyone knew Ed Berti; and that he worked for Pine", states Denniston. He was also a mentor to Pine's other engineers.
Ed's commitments were equally as rich outside of Pine. His passion for basketball led him to help coach high school for years. You could find him most summer evenings at Grove City Park shooting hoops with a bunch of guys. He served on George Junior Republic's Board of Directors and was instrumental in the fundraising campaign that built the new Grove City YMCA.
For more than four decades, Ed has helped Pine become a respected leader in the asphalt testing, electrochemistry research, and electronic board assembly industries. His leadership, vision, and infectious smile will certainly be missed by his Pine colleagues.