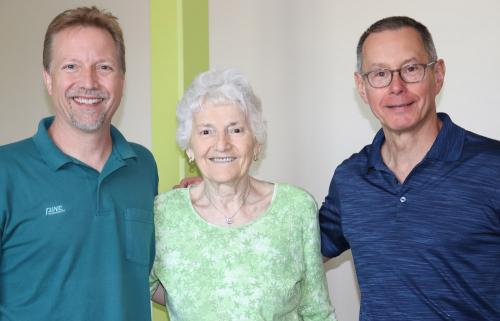 It was standing room only at the luncheon for Pine retiree, Bruce Denniston.  Bruce joined Pine in 1998 as Manufacturing Engineer.  Over the next twenty-one years, he grew with the business holding many roles including Quality Assurance Manager, Director of Operations, Sales, & Marketing and most recently, Vice President and General Manager.  His vision and leadership have helped Pine Electronics become one of Pennsylvania's top contract manufacturers. 
At the luncheon, President, Joe Hines, opened the floor by thanking Bruce for his 21 years of service. He noted Bruce's commitment to preserving Pine's coveted work culture and his management style whereby the employees' best interests always came first. Several people then took the opportunity to share stories. Stories that could only be shared on the Vice President's last day. Needless to say, there were many more laughs than tears.
The Hines family and the employees of Pine will always be grateful for Bruce's leadership, wisdom, and vision. Even on his last day, he continued to demonstrate his leadership with his final remarks. He talked about how he found 20 year-old files while cleaning out his office. Though important at the time, he thought about how irrelevant those files are today. He shared that story to encourage us as a company, to not look back. "Our eyes should be focused on the future."
Thank you, Bruce, for those final words of wisdom. We will always look forward. Enjoy retirement and the precious time with family.