Pine Electronics along with several other companies talked to several hundred Mercer County Gen Z's about careers in manufacturing at the 6th annual Mercer County Business & Industry Career Fair. Tammy Mysliwiec and Amy Weller shared educational requirements for several different positions at Pine. The event held at the Park Inn by Radisson in Sharon, PA helps youth understand the schooling needs for different careers with manufacturers in Mercer County. Yes, there are excellent jobs and careers to be pursued in Mercer County, Pennsylvania. That message is always clearer when heard directly from industry.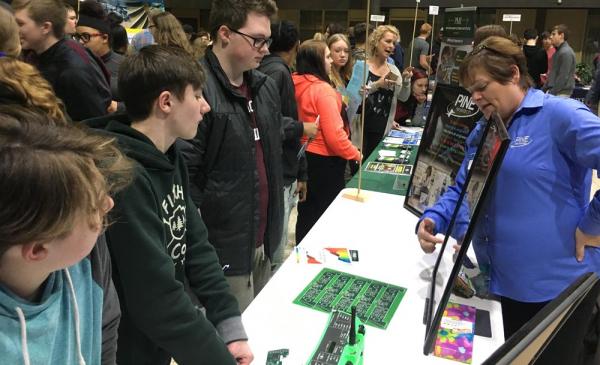 For local employers like Pine Electronics, it's an investment in the future. Not only is it helpful for manufacturers to get out into the community, but events like this help to plant seeds for their future workforce and open eyes to a world of career opportunities. With nearly 3000 employers in Mercer County (197 manufacturers), Pine Electronics was fortunate to be one of the 24 exhibitors that participated.
A round of acknowledgement is extended to the Mercer County teachers and administrators who support career awareness days. All twelve school districts in the county plus George Junior Republic and Keystone Charter School attended the fair representing almost 900 students. The 9th and 10th graders were engaged, energetic, and respectful. Students learned of employers' expectations and heard from America's Top Youth Speaker, Arel Moodie. Arel delivered a dynamic and fun presentation on how they can achieve anything with the right mindset and attitude.
The importance of creating opportunities for career awareness along with GenZ-business networking events are grossly underestimated. Undoubtedly, the task to coordinate such an event with multiple school districts, businesses, and limited funds is daunting. However, the benefits are unmeasurable. Teachers who provide education outside the classroom are helping to differentiate Mercer County. Events like this clearly demonstrate the commitment to developing our future workforce. Ultimately, this positions Mercer County as an attractive choice for manufacturers looking to relocate to western Pennsylvania.
There were several organizations responsible for the success of this year's Business & Industry Career Fair. First, it was refreshing to see the commitment of the businesses who spent the entire day talking with students. Secondly, without the students, the event wouldn't have happened. Every single school in Mercer County transported their students to the event. And lastly, the funding and planning required for this fair is extensive. Many thanks to West Central Job Partnership, Shenango Valley Chamber of Commerce, Penn-Northwest Development Corporation, PA CareerLink Mercer County, Mercer County Career Center, and Pennsylvania Department of Labor & Industry Office of Vocational Rehabilitation. Their support and sponsorship is inspiring and deserves special recognition. Please take a minute to thank those organizations that sponsored the fair. Most of them can be found on Facebook, LinkedIn, Instagram, and Twitter.