When a few LED bulbs went out on Lakeview High's gymnasium scoreboard, the maintenance department turned to the Mercer County Career Center for help. Unfortunately it was a little more complicated than simply replacing a panel or two.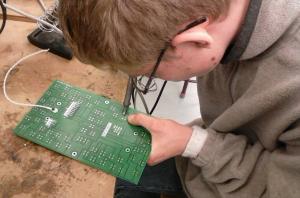 The panels used in the scoreboard were discontinued and no longer available. It was Greg McClure, a senior at Lakeview High School, enrolled in the Career Center's Electronics Program who came to the rescue. Greg researched the LED style, located the necessary parts on EBay and had them shipped from China. Once arrived, Greg soldered the legs on every 4-pin LED bulb and then tested each panel.
The PACE ST-115 Vacuum Desoldering Station that Pine donated significantly reduced the time Greg spent removing the 126 Super Flux LED's from two digital display panels. This impressive young man not only repaired his school's gymnasium scoreboard, but he took time to send a very sincere thank you letter. Greg wrote: "The station was a blessing, and it made a time-consuming process that might have taken a week an eight-hour job. Thanks to Pine Instrument for its interest in aiding the training of future Electronics Technicians, as shown by its many donations of tools and equipment to this shop."
Congratulations to Greg for using his education, time and talent to resolve an electronics problem that ultimately kept Lakeview High School from having to purchase a new gymnasium scoreboard.