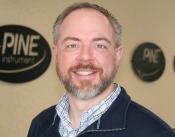 We are pleased to announce that Brian Jesteadt has joined Pine Instrument Company as the Network and Computer Systems Manager. Along with providing software and hardware assistance to Pine employees, Brian's responsibilities will include the management and maintenance of company servers, PC's, laptops, printers, data network, telephone system and website support. His background and expertise will ensure exceptional IT support for Pine Electronics, Inc., Pine Test Equipment, Inc. (both located in Grove City, Pennsylvania) and Pine Research Instrumentation, Inc., located in Durham, North Carolina.
Prior to joining Pine Instrument Company, Brian served as the Information Systems Manager at Modern Transportation Services where he managed all IT operations for the transportation and logistics company headquartered in Sewickley, PA.
He received a Bachelor of Science from the University of Pittsburgh in Information Science with a minor in Computer Science. When not at work, Brian enjoys spending time with his family, downhill skiing, hiking and camping, and gardening. He resides in the Prospect area with his wife Eva and his two sons, Nate and Lucas.