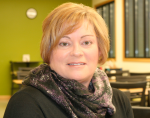 For many years, Pine Electronics chose to cautiously control growth carefully preserving the unprecedented level of service provided to long-time loyal customers. But with capital investment of multiple MyData SMT lines and the addition of a new Business Development Manager, Pine Electronics is eager to fill shop capacity. With careful planning and thought, the Pine Electronics Team has developed a strategic marketing plan to win the confidence of new customers seeking to outsource their electronics assembly production needs. The secret to success in this industry is healthy relationships, customer confidence, trust and transparency. The company could not be more excited to announce and welcome Tammy Mysliwiec as the new Business Development Manager who will fill the role with integrity and ambition.
Tammy is an accomplished marketing and communications professional who brings extensive product launch and global marketing experience in highly competitive markets to Pine. Most recently, she was responsible for a broad range of business intelligence activities with Instron, Industrial Products Group, where she worked for twelve years. A natural team leader, she will work collaboratively with Pine's customers – building relationships, solving problems, and generating new business.
Tammy is deeply rooted in western Pennsylvania with family, friends, and a respected professional network. She is thrilled for the opportunity to utilize her experience in this newly created role. Feeling right at home, she is an alumna of Grove City College with a Master's in Business Administration from Point Park University. After raising two children, she and her husband now share a passion for sailing. They reside in Butler, Pennsylvania with their other true love, a beautiful Weimaraner.